New Zealand is a popular travel destination because of its breathtaking beauty, vibrant Maori culture, and outdoor activities. Understanding the New Zealand eTA Transit Visa criteria is crucial for a stress-free trip, regardless of whether you are seeking a brief layover or a leisurely stopover in the land of the long white cloud. This blog post will thoroughly examine the main features of this digital travel permission, including the application procedure, the requirements for eligibility, and the advantages connected with it. Make sure your transfer to New Zealand is just as exciting as the final destination!
To transit through New Zealand as part of their travel and stay there for no more than 24 hours, citizens of the nations that do not require visas must have an NZeTA (New Zealand Electronic Travel Authority) Transit Visa. Travelers via air and cruise ships are permitted to use this Visa.
Benefits of NZeTA Transit Visa
The NZeTA Transit Visa offers several benefits to visitors passing through New Zealand. The Visa is simple to apply online, eliminating the need for laborious paperwork and enabling you to quickly acquire the visa authorization before your trip. It eases the process of traveling and lessens tension while en route. Second, the Visa permits multiple entries, enabling you to take advantage of layovers or stops to visit New Zealand's attractions. Thanks to this flexibility, your whole vacation experience will be enhanced by the country's natural beauty and rich culture. Thirdly, the Visa strengthens border security, giving you peace of mind when you travel. In other words, in addition to simplifying transit, the Visa also gives you more opportunities to explore and take in more of New Zealand's natural beauty while traveling.
Eligibility
NZeTA Transit Visas are often granted to nationals of nations with Visa waivers. This digital Visa is for travelers using New Zealand as a stopover on their way to another country. The nationality of the applicant and the nature of their intended journey are the main factors determining eligibility for the Visa. A valid passport, confirmation of travel arrangements for a subsequent trip, documentation of adequate means to pay transit costs, excellent health and moral character, and a sincere desire to leave New Zealand after transit are all requirements for eligibility. It is advised that candidates check out official sources or the closest New Zealand Embassy for the most recent and accurate information that is customized to their circumstances because the eligibility requirements may vary and change over time.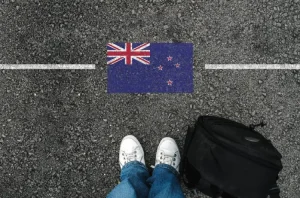 Applying
You must apply for NZeTA if you intend to visit New Zealand as a tourist or if you are flying into any other country from Auckland International Airport. Travelers planning to transit through New Zealand's territory can apply for a transit visa via the easy-to-use NZeTA system. The application is submitted online, and to finish it, applicants must provide the necessary personal data, passport information, and travel plans. Additional paperwork, such as confirmation of onward travel plans or evidence of sufficient cash, may sometimes be required. The requirement for a physical visa sticker is eliminated when the Visa is approved and electronically linked to the traveler's passport. To ensure enough processing time is available, applicants must submit their applications well before the anticipated travel date. Overall, the New Zealand Transit Visa application process is simple and user-friendly. 
Making the Most of Your Transit:
While your time in New Zealand might be short, there are still multiple ways to make the most of your transit:
Quick City Tour

: Explore nearby city highlights, savor local cuisine, or shop for souvenirs.

Nature Walks:

If you're a nature enthusiast, walk briskly through a nearby park or botanical garden.

Cultural Experiences:

Discover Maori culture through quick museum visits or artistic performances.
Conclusion
Due to its breathtaking scenery, vibrant Maori culture, and outdoor activities, visiting New Zealand can be a dream for many people. Understanding the criteria is crucial for a trouble-free trip, regardless of whether you want to make a brief stopover there or intend to stay for a short while. An in-depth examination of the main characteristics of the NZeTA Transit Visa will be given in this blog. We will discuss the application procedure, eligibility requirements, and visa advantages. Let's ensure your time in New Zealand is as exciting as your final destination. A person may travel across New Zealand's territory to another location using the NZeTA Transit Visa, a digital transit authorization. It is a mandatory visa for nationals of nations that don't require it, and it applies to travelers on airplanes and cruise ships. The Visa is only good for up to 24 hours while traveling through New Zealand.